When annual Noosa Festival of Surfing is in full swing every March and five feet of near-perfect ground swell grace its numerous breaks, the local points are inundated with a healthy array of the world's best longboarders. Taylor Jensen, Harley Ingleby, Joel Tudor, Alex Knost, C.J. Nelson – this just the tip of the tantalising iceberg of a veritable who's who of modern surfing.
It should be to this gamut of surfing celebrities that I find myself drawn, iPhone in hand, to capture their words of wisdom and comments on wins or losses.
But my attention is pointed away from the hubbub of the festival, honed on a humble, cramped and dusty shaping bay on the town's outskirts. I feel like a wise man journeying to a stable in anticipation of witnessing living history, meek in reverence.
I follow the sounds of the gentle rasping of sandpaper on foam and nervously rap on the room's dilapidated blue door. A sonorous 'yup' emanates from within and I enter.
The diminutive character inside seems unassuming enough, his neatly combed, snow white hair falling across his foam-dusted, deeply tanned brow and his modest rapport giving no reflection of his stature within the surfing world.
He has arguably done more for the development of big wave equipment over the years than any other. He has advanced the gun and tow boards in ways thought abstract at the time, working alongside Laird Hamilton and others in the discipline's formative days. He applied three fins to boards almost a decade before Simon Anderson's thruster was born and was playing around with quad fins before three were de rigueur.
His name is Richard Brewer.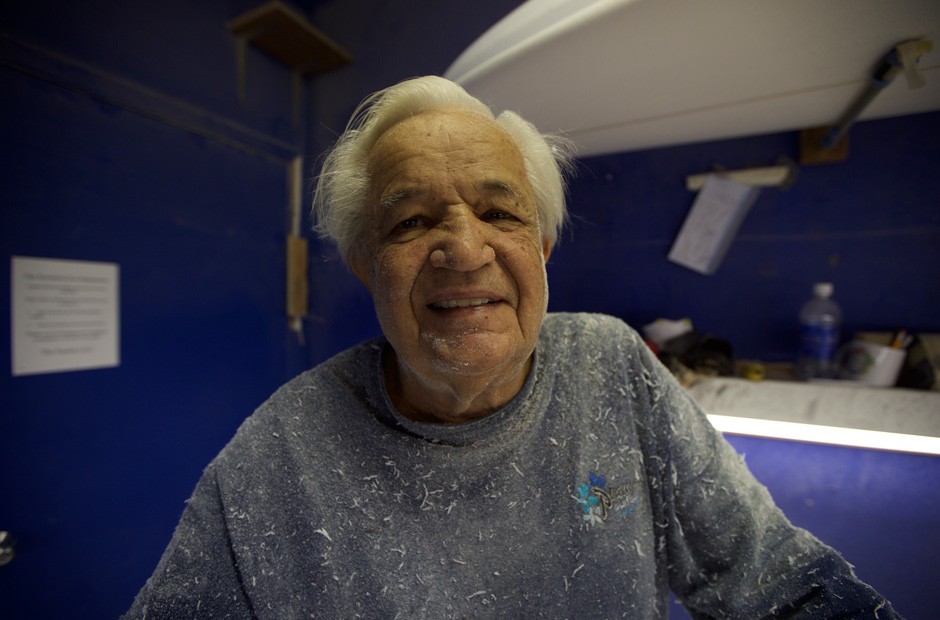 Richard 'Dick' Brewer was born land-locked, his engineer father, a tool and die maker, having started his family in Minnesota. But in 1939, at the age of three, Brewer and his kin were uprooted and transposed to the vastly contrasting social climate of California.
"We moved to California just before World War Two, so I was really raised in California. In California, when you turn 16, you get your driving license, drive the two miles to the beach and get a board, and that's what happened."
This matter-of-fact occurrence marked the beginning of a new era in surfing and Brewer's life would, from that moment forth, be governed by the ocean.
An early friend of Brewer's had a job for Dale Velzy, transporting boards up and down the coast, so it was only natural that one of his earliest boards was a Velzy. But, as with all surfers, he would have many more boards than just one.
"I had also shaped myself a ten-foot board in my garage in Surfside, California, when I was 12, right down the road from where I was going to college. Another board I had was a wooden Dick Barrymore nine-footer that was a really light board. It only weighed about 28 pounds (13kg), which would be considered light for a wood board to this day. I rode almost everything in California with that nine-footer, so riding big waves on a nine-footer wasn't too strange to me later on."
As with the majority of West Coast surfers of the time, Brewer's focus was soon to swing to the Islands of Hawaii.
"My parents wanted me to go to college, and so I did. I was in my last year of engineering and flew over that summer to Hawaii and never went back. I took a few classes at the University of Hawaii and that was the end of that. I started Surfboards Hawaii in 1961.
"I had a good friend, Walt Phillips, who I'd been surfing with. He and I rented an apartment near Ala Moana. Right next door, Donald Takayama, had a surf shop and he shaped downstairs.
"I'd already shaped myself a few boards before I moved to Hawaii. I got together five unemployment cheques and rented a store in Haleiwa. My dad bought me an air compressor and Dewey Weber fronted me 20 surfboards to sell, because I was riding his boards at the time, before I moved there. So I started off selling Dewey Weber boards and filling scuba tanks there in Haleiwa."
The move was exactly was Brewer needed to give his life a creative direction. His old nine-foot Barrymore may have been sufficient for Californian waves, but Hawaii was the bedrock of big wave surfing and the proving ground for man and craft alike.
The winter swells allowed Brewer to put his shapes through their paces and the talents of the local test pilots were essential in refining his designs.
While surfing in the modern, Western sense, was very much established in the Islands, the indigenous community still maintained a very significant presence in the water and none more so than the Waikiki beach boys. This was the collection of individuals that had spawned Duke Kahanamoku, Rabbit Kekai and the Keaulana clan, so to have their kudos was a Hawaiian shaper's raison d'être. And fairly soon Brewer would accomplish that recognition.
"I built an eleven-foot board for one of the great big beachboys. Buzzy Trent got me to go down to Waikiki on a big day. He told me it was twenty feet and I said, 'come on Buzzy, it's a south swell – I don't think so.'
"But I went down there and it was. We surfed Castles, which breaks off the point, where Duke Kahanamoku got his mile-long ride. After we surfed, we were standing there on the beach with Buffalo [Keaulana] and [George] Watanabe and we saw this beachboy ride right past Phil Edwards. When he came in everyone was excited and congratulated him on a great ride and Buffalo looked at his board and he goes, 'ey Brewer, I like board.' Well, you don't refuse Buffalo!
So I built him a board and about two months later, he won the 1962 Makaha championships on that board. From then on, everybody wanted Dick Brewer Surfboards Hawaii. So I was up and running, building and shaping boards, and that's how I really got started."
It wasn't long after this that Brewer would carve his niche in the industry. Although a consummate craftsman across the board, it is for big wave guns that Brewer remains synonymous. Spending a great deal of his time on the North Shore, he saw the equipment of the day foundering on the massive walls of water, sliding out, failing their passenger and being too slow to outrun the rolling peaks stampeding shoreward.
Buzzy Trent would again play roll in Weber's evolution as a shaper, asking his friend to shape a board more tailored for the challenging conditions.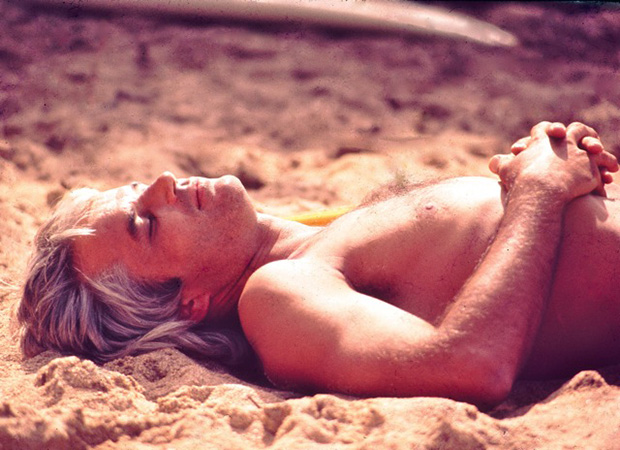 "Buzzy had been talking about how [Bob] Simmons had built him a concave and how much faster they were. So I built Buzzy a concave gun. He took it out at big Makaha and everybody saw how well it went. So, all of a sudden, everybody wanted Dick Brewer, Surfboards Hawaii concave boards. I used the knowledge of the day to really get everything in order, but I did do a lot of development."
This was the commencement of Brewer's heyday. With more and more people witnessing the efficiency of his boards in such conditions, his client list expanded exponentially and soon up to 80 percent of Waimea's lineup was riding Dick Brewer guns.
In 1965, Brewer ventured back to the mainland, coaxed by a job offer from Hobie Alter. Keen to harvest the success of Brewer's reputation, Hobie presented the prospect of making a Dick Brewer model. But this was to be a short-lived partnership. Brewer had brought with him one of his team riders, Jeff Hakman, a surfer whose opinion Brewer valued greatly and who, to a small extent, was integral to Brewer's design process.
Despite Hakman winning the first Duke meet on a Dick Brewer Hobie model,
Hobie wasn't happy to pay two wages and Brewer's allegiance to his team member wouldn't allow him to remain at Hobie without Hakman. The disagreement ended the partnership and Brewer and his charge soon departed for Hawaii.
The return to the Islands was a chance for Brewer to start over, recreating himself and his business back in his home of choice. He set up a shop in Honolulu, creating the very successful Pipeliner model.
"The Pipeliner actually came from a 1962 template ridden by Butch Van Artsdalen at Banzai Pipeline and it worked really good. I made twenty-five of them, some with concave noses, some with concave tails and I called it the Summer Semi. When I went to work for Bing I used the same template and called it the Pipeliner."
But Brewer was happiest working alone, free to develop his own boards, straining the envelope of design and working more on his favourite shapes: the guns.
"I really wanted to get into designing and building smaller guns. So, in 1967, I moved to Maui. Two of the young surfers, Gerry Lopez and Reno Abellira, came over. There were some lodgings above the old cannery in Lahaina and I borrowed $5,000 from the local gambling syndicate and we started a surf shop. We gave that money back in three months. That 5,000 bought us a lot of fibreglass and resin and foam, and that was all we needed to get going.
"Honolua was still a big wave but it wasn't as big as Waimea or Sunset. It was a more perfect wave, which is what I wanted. I wanted to develop a more manoeuvrable gun – that was my objective. I stayed there for a year, in business with Buddy Boy [Kaohi], until the pineapple company evicted us for whatever reason, I don't know."
While at the Lahaina factory, working closely with Abillera and Lopez, Brewer went about taking foot after foot off his boards. Abillera was of pint-sized stature, enabling him to ride much smaller boards than thought adequate for the conditions. This inspired Lopez to also go shorter, pushing the boundaries of the period's board design.
"Gerry came and visited me and brought a blank with him. He wanted me to shape him a nine-six big wave board. The year before, Gary Chapman had got me to build him an eight-six. Barry Kanaiaupuni rode it at big Velzyland and had ripped on it. Right after that, Barry said to me, 'hey Dick, I could ride a seven-six just like this on the same kind of waves."
Later that year, Brewer took his team, including Hakman, Lopez and Abillera, Gary Chapman and Jock Sutherland, back to California, to the Bing factory in Hermosa Beach. But the trip was fraught with conflict. With so many excellent surfers each bringing their own ideas into the shaping bay, friction was always just a tiptoe away. David Nuuhiwa, an integral part of Bing at the time, decided to take Jock Sutherland's brand new, unridden board out for a test run without permission. Preferring a looser feel, Nuuhiwa snapped an inch off the fin and insisted it went considerably better.
But Sutherland wasn't impressed. In the days of glassed-in fins, it wasn't an easy task to replace one, so Sutherland's virgin board was now, as far as he was concerned, ruined. But the final straw was yet to come.
"One Monday morning, Bing walked in and we all had a box of reject blanks and were making mini guns. In the process, I designed the Lotus and the Pintail models for Bing, which he wasn't really ready for. He was pissed off because he wanted me shaping Pipeliners.
"He fired me and the whole team picked up our reject blanks and went back to Maui."
This wasn't the first time and certainly wouldn't be the last that a Brewer creation was too advanced for its time. His designs always seemed to precede public trends by half a decade, missing the bandwagon by being too early. In a time where guns were over nine feet long, Brewer was producing boards of seven feet and under, when boards were flat or rolled on the underside, he was carving concaves through the hulls and when the word 'rocker' referred more to someone's musical persuasion than the curve of a blank, Brewer pioneered the Flip Tip.
"Reno and Joey Cabell were getting s-decks that were really fast. But the problem with the straight rockers was that they would pearl, so that's when I started putting the flip tip in the nose of Reno's s-deck boards.
"It was a few years later that Al Merrick brought the flip tip back and it became part of surfing."
By 1967, Brewer had re-established himself in Hawaii, his own boss once more. Living in Hanapepe above his shaping bay, as was common at the time, Brewer created Lahaina surf shop. It was here that, in a historical uniting of ideas, Australian surfer/shaper, Bob McTavish would show to Brewer the possibilities in diminished board lengths. In Brewer's shaping bay, standing over a half finished blank, Jerry Lopez watched in stunned silence as McTavish encouraged Brewer to saw two clean feet off the end of the board. Brewer refined the shape, Leslie Potts glassed it and Lopez took it out. It was far looser than anything he had known before and the board went superbly.
Still closely affiliated with the shaper, Reno Abillera asked Brewer to shape him a board to take to Puerto Rico for the World Contest. The board was drastically shorter than any of the others surfed in the event and it became apparent that, if a surfer wanted to be as agile as Abillera demonstrated in his near-event-winning performance, board size would have to drop drastically.
On the other side of the Pacific, Australia was seeing the birth of the shortboard. Trimmed from longboards, first by an inch, then a foot, then two, boards were changing rapidly as surfers pushed the limits of what was possible. Virtually overnight, boards almost halved in length.
But Brewer had already been doing his own whittling.
"Around that time in 1968, Reno asked me, 'what do you think would be the minimum board?' And I said, 'well, that's got to be you.' So we drew around him on the blank and it came out at five-four. I cut it out and did a bit of planing on it and went to bed. Reno worked on it all night.
"When I came down in the morning it was two inches thick. Nobody had ever ridden two inches or even thought of it. We glassed it right away and took it up to a place called Infinities, on Kauai. He would stuff this little five-four inside the tube further back and with more control than anything, he said, he'd even dreamed of.
"Reno had that board in his bag when he went to Puerto Rico. In fact, there was one picture taken of him and the board was on the ground next to where he was standing. But nobody was really ready for that board, or the six-seven Brewer he took. He got second in the contest, behind a nine-foot board, but when everybody saw the movies later, they realised Reno was the guy."
As had been the case so often in Brewer's past, the world was not ready for these drastic shifts in surfboard design, too startling and dissimilar as they were to the day's boards of choice.
In 1975, Aussie surfer, Mark Richards, flew to Hawaii for the Smirnoff Pro-Am, held at Waimea, and the Sunset Beach World Cup. With his unorthodox style and even more unorthodox boards, Richards won both events, amassing a prize purse of $9,000 US, a staggering amount unimaginable to surfers of the time.
At this time, as luck, or misfortune, would have it, a trans-Pacific collaboration was created, furthering the evolution of the surfboard significantly.
Terry Fitzgerald had also flown to Hawaii from Australia for the contests, hoping to share in the glamour, wealth and reputation of the events. But contest directors refused him entry, failing to believe he was a professional surfer. With a return ticket in his pocket but no purpose to his visit, Fitz was at a loose end, but the extended wing of Brewer beckoned.
The six-month residence coincided with another particularly poignant period of Brewer's innovative career.
"Simon Anderson invented the thruster later, but I was making three fins for several years before that. I won the Senior Men's at the Ala Moana contest on a two-plus-one board in 1971.
"It was two smaller fins on the side and a six-and-a-half inch fin in the centre. I put a similar thing on Laird's first tow board and tow boards still use that setup."
Once again though, this invention would be overlooked, much of the world turning a blind eye to the advancements of Brewer and Hawaii's shapers at large.
Brewer explains: "McTavish and I totally left California standing with their longboard inventory. They weren't part of any of it. So they felt left out and their photographers left Hawaii out of their movies. And [Paul] Witzig did the same thing when he came to Lahaina. He pushed his riders.
"At that time in Lahaina, Ted Spencer, the young Australian, had a mini Malibu and he really ripped Honolua Bay when it was around the two-metre size. A lot of the boards at that time had very little rocker – they were dead straight. This was a lot like my Pipeliner models, but a smaller one. So suddenly, watching him surf, I realised maybe smaller boards don't just work on guns, they work on any template.
"Ted Spencer brought his board in and we stripped the glass off it and I re-shaped it seven-four with a squash tail and probably a 13-inch nose. It wasn't until about six months later that Les Potts shaped a 7'10" an 11-inch.
"Seeing Les ride the board, there was definitely more freedom on the face without that giant nose. That was a breakthrough. Ted Spencer on that seven-four took surfing to a whole 'nother level. However, the first day he rode it, after he took several waves, he broke it."
Mark Richards, or more specifically, Mark's father, saw the calibre of Brewer as a shaper and, with the young Mark wanting to forge a path for himself within the industry that allowed him to travel and yet develop his own surf equipment, he sheepishly approached Brewer to impart his formidable knowledge.
"He said his dad wanted him to come and take shaping lessons from Brewer. I said okay, but you've got to show up every day with a hundred dollar bill. That was dear in those days. That'd be, like $500 today. He showed up every day for over a month with a hundred dollar bill and he paid for seven boards and he helped shape every one of them as part of his learning process. I shaped him two twin fins and five single fins of various sizes, all the way up to a full gun.
"But I didn't teach him anything about the three-fin. I'd put the three-fin development aside because I was saving that for myself. I was keeping it a secret, but maybe I should have taught Mark. He took the twin fin from there and did a great job."
Into the '80s, Brewer kept apace with the ebb and flow of surfboard design, walking the path of evolution shoulder to shoulder with the likes of Al Merrick. But, while maintaining his exceptional quality of equipment, Brewer had ventured underground to a greater extent, not pushing the boundaries of board design and advancement as he once had.
That is until a small group of thrill-seeking surfers decided it might be a good idea to try riding waves too big to humanly paddle into.
Laird Hamilton, Darrick Doerner and Buzzy Kerbox were hungry to experience surfing outside the realms of reality. All had prestigious surfing backgrounds and all had a deeper understanding of the ocean. As the beach boys of Waikiki had been before them, these were true watermen, adept at freediving, surfing and windsurfing and all were at the very peak of physical fitness.
The North Shore residents had surfed the thundering swells of Makaha, Waimea and Sunset. They had had their share of tube time at the Banzai Pipeline and Backdoor. What they were searching for was, to many, beyond comprehension. And it was Dick Brewer who would help them get there.
"In 1992, we had a hurricane on Kauai and my house was destroyed. I flew to Oahu, rented a house on the beach and Laird was staying downstairs. Darrick Doerner had a house right out the back and he, Buzzy Kerbox and Laird somehow got their hands on a Zodiac with a forty-horse motor. They went out and started towing Laird on a nine-six wood board. When I saw that I said, 'okay, this is happening.'
"Immediately, I said to Laird and Darrick Doerner, 'hey, I've been building boards for Poto to ride Teahupo'o in Tahiti with full concaves and reduced fin size so they climb and drop easier inside the tube.' Laird said, 'Poe…toe…Choe-poe(sic)…what are you talking about?'
"Vetea [Poto] David was number two in the world at the time riding Brewers. He was getting the biggest tubes I'd ever seen, so I built him a lot of boards to ride Teahupo'o on. This is way before tow boards came in.
"Before I left and went back to Kauai, I shaped what Laird calls 'Betsy' – the first modern tow board. It had a full concave, it had a reduced fin setup – they now call it the Lopez, but that's a brewer setup – but Laird's first tow board has that setup on it.
"Almost a year later, Laird turned up and Doerner said, 'what's this?' Laird said, 'it's something Brewer dreamed up.' Laird looked at it, he strapped it and the first wave he rode it on was a thirty-foot wave and is one of the biggest waves ever ridden to this day."
So the shaper, now creeping up to his 50th birthday, became pioneer once more. 'Betsy' measured in at around the 7'3"mark and, whilst Laird was thrilled with her performance, surfer and shaper were convinced they should go shorter. Moving to the North Shore, Brewer took that original template, scraped together some funds and scaled down the dimensions to make five new boards.
"I received $17,000 that year from the sale of the Plumeria logo the most I have ever received from any logo to this day. This allowed me to make Laird's to boards. They started at seven-foot and went down to 6'4" and we were up and running. But they all had the same bottom contours that 'Betsy' had.
"My boards totally dominated tow-surfing for several years and now everybody makes them, but they're all basically copies of the original 'Betsy', or variations of it."
As the man hadn't created enough unique and ground-breaking shapes and elements of surfboards, his work in tow-boards and modern big wave guns includes an element that pre-dates Simon Anderson's thruster by several years and is only now truly coming to the fore for surfing technology: the quad fin. Much faster and with better hold on the face, the 30-year-old invention is proving itself to be superior in many applications.
Sought after back in the early '60s for their exceptional handling in oceanic behemoths, 50 years on Brewer's boards are still the big wave rider's boards of choice, whether paddling in or hauled in behind a jetski.
Bruce Irons claimed the 2005 Quiksilver In Memory Of Eddie Aikau event at Waimea on a Brewer and rode another of his shapes in the same event this year. Brother Andy also uses Brewer big wave boards and the tow crew continue to knock on the shaping bay door of the 74-year-old shaper.
It could be fair to say that no single shaper has had such long-standing influence over the surfing world as Dick Brewer.
Having spent the last half-hour in the presence of this mellow-spoken, unassuming and remarkably under-celebrated doyen of shapers, with a shake of his work-worn, foam-covered hand and my humble thanks, I turn and leave, visibly trembling at the gravity of the moment. Immediately, the gentle rasping of sandpaper on foam recommences as the true craftsman continues shaping another masterpiece.
– This article first appeared on Drift Surfing on Jun 4, 2015